Columbia Valley Wine Region
Central & Southern Washington
The unique climates of the area allows the Columbia Valley to produce wines that are very fruit-forward, like California wine, but also retain some of the balance and structure of European wine.
Established in 1984
Columbia Valley is Washington's largest viticulture region, with 99% of Washington's wine grapes grown in its AVA's. Established in 1984, Columbia Valley has numerous meso- and micro-climates within its nearly 11 million acres and is located on the same parallel of the growing regions of Bordeaux and Burgundy in France. Located west of the Cascade mountains, the Columbia Valley contains most all the other Washington AVAs, except for the Columbia Gorge and Puget Sound.
Sub-Apellations Within The Valley
Yakima Valley was established in 1983, the birthplace of Washington State's wine industry predating the Columbia Valley by about a year. Home to over 120 wineries and five American Viticulture Areas in just 70 short miles, the Yakima Valley contains more than 17,000 acres of producing vineyards and produces 75% of the nation's hops for breweries and fruits that produce quality ciders and distilled beverages. Incredibly diverse in terms of climate from west to east, the region produces all manner of red and white varieties with wines encompassing a broad range of styles. Numerous wineries, restaurants, theatres, arts, shopping and music events have made downtown Yakima a lively destination. In just 7 blocks along Yakima Avenue and a few blocks to either side, you have your choice of wine, beer, cuisine, arts, music and entertainment. Visit Yakima's downtown for award-winning wineries, locally inspired cuisine, boutique shops and art galleries.
Sunset Road cuts a two-and-a-half-mile swath through the middle of Washington State's smallest appellation, Red Mountain, providing easy access to the areas wineries lining the route. At 4040 acres, it has a unique combination of diverse geology, gentle south slope, consistent winds and notable heat profile. Established in 2001 and located on the eastern edge of the Yakima Valley, Red Mountain doesn't produce the most grapes in Washington, but it does have the reputation for growing the best. A complex mixture of the most rare and highly valued soil types in Washington was created by wind-blown silt and sand over glacial outflow. The AVA's red wine grapes such as Cabernet Sauvignon, Merlot and Syrah are highly prized for creating wines of superb concentration and depth, which consistently earn critical acclaim.
This small town in southeastern Washington has become a world-class wine and according to Sunset Magazine one of its favorite small town foodie havens. With 120 wineries, 2,800 acres of grapes and stunning panaramic views of the Blue Mountains, Walla Walla Valley, is truly a unique combination of climate, character, charm and culture. This premier wine region was established in 1984 and offers the rare opportunity to experience not only world-class wines but to meet the winemakers, vintners, and family members carrying on the wine tradition. Downtown Walla Walla is the place where you begin to discover what makes Walla Walla so unique. A walk down tree-lined streets reveals a funky mix of vintage shops, boutiques, cafes, bookstores, tasting rooms, restaurants and more.
Horse Heaven Hills is home to 15,534 acres of the state's vineyard acreage and a source of the five 100-point wines from Washington. This expansive, desolate region grows a diverse array of grapes on inspiring and rustic terrain. Dramatic, windswept vistas, clear blue skies, arid hot summers and delicious, approachable wines.
The Ancient Lakes, the Rattlesnake Hills, Lake Chelan, Snipes Mountain and the Wahluke Slope AVAs designate unique growing areas of special distinction are also within the larger Columbia Valley AVA. North of the Rattlesnake Hills is a region commonly known as Columbia Cascade, but which is not officially recognized as an American Viticultural Area. Other wine growing regions of distinction that have not yet been granted AVA status include the Othello region located in Adams County and the Tri-Cities area around the towns of Kennewick, Pasco and Richland.
Stay Among The Vines
A 1917 mansion turned luxury bed and breakfast offers an escape to romanticize with all the modern amenities. Warm Springs Inn & Winery world-class food, estate wines, romantic getaways, is conveniently situated between Wenatchee and Leavenworth and combines world-class food, estate wines and the perfect setting for a romantic getaway.
A romantic destination resort near Walla Walla, Cameo Heights Mansion provides guests with an intimate, boutique hotel experience unlike any other. Situated in a quiet, country setting and located only a short distance away from downtown Walla Walla for wine tasting and first class dining.
Destiny Ridge Vineyard is home to a Tiny House Glamping exeperience, located in the Horse Heaven Hills and overlooking the majestic Columbia River. Voted "Top 10 Hottest Brands" by Wine Business Magazine, Alexandra Nicole Cellars, offers a selection of "wines on tap" available in their Destiny Ridge Tasting Room and many of these wines can be tasted upon check in and purchased by the bottle or growler should you desire. Located approximately 45 minutes from any major town/city making this the perfect getaway without any distractions!
Experience The Region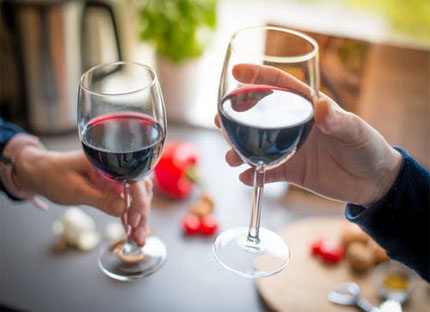 Wine Tasting, in the vineyards. Head over the mountains into Eastern Washington, leaving ...
---
YOU'RE INVITED TO THE PARTY!
Get On The List